Artikel
Kategorie: Team Gosu - Berichte | Autor:
IIkiLLuII
| Datum: 02.01.2017 - 19:26 Uhr
0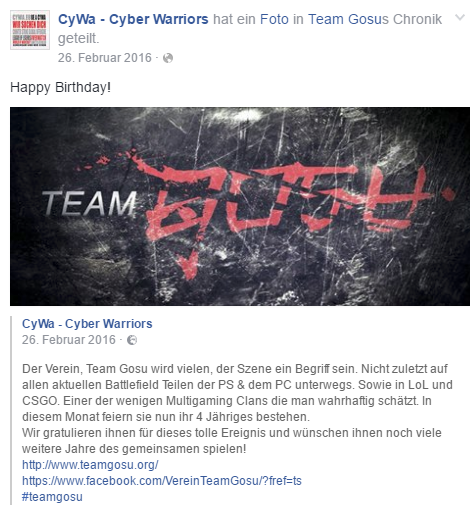 Kategorie: Team Gosu - Berichte | Autor:
IIkiLLuII
| Datum: 20.12.2016 - 17:18 Uhr
0
Zu Beginn von Battlefield 3 wurde es schon zur Mode ein Dogtag der Dice Mitarbeiter zu ergattern.
Da dieses für die besagten Mitarbeiter allerdings zur Qual wurde und ein ungestörtes spielen so nicht möglich war führten wir als erstes Battlefield Team überhaupt eine Regel auf unseren Servern ein.
No Dice Hunters allowed!
Von nun an war es auch unseren Freunden von Dice und EA möglich in Ruhe mit zu spielen denn jeder bekannte Dog Tag Hunter wurde unseres Servers verwiesen.


gamm4, EA Community Manager:
The server is owned by Team Gosu.

They decide that the server should not be part of these Dogtag Hunt actions. Thats why there is a rule on the server, that disallow continous knife actions.
Its up top the server admin, to decide who plays on his server.
The Poolshark, EA Mitarbeiter:
looks like i found my new favorite server
crap, it is in europe
Presenting the SC-2-Teams
Kategorie: Team Gosu - Berichte | Autor:
MarksmanSpecal
| Datum: 19.12.2016 - 16:54 Uhr
0
Team Gosu is an austrian multi-gaming association that has been established at the beginning of 2012. Their members play a lot of well known games such as Starcraft 2, Battlefield 4, Diablo 3, LoL, CS:GO and many more. The association currently has over 300 members and the size of the Starcraft 2 team is around 50. Most members are german or austrian or can speak german, however everybody is welcome to join the Team Gosu community to have some fun. The Team Gosu Starcraft 2 team is divided in 3 sections: - a community team which is meant for all players that love communicating with others while playing or watching streams - a war team where motivated players can participate in smaller clanwars - and the pro team which represents Team Gosu successfully in official tournaments and leagues such as ESL, SC2CL and SC2ITL. On top of that, they administrate a couple of community oriented events and projects like the "Team Gosu Low League Cup" and the "Team Gosu Fun Cup" where non-pro-gamers can not only have a lot of fun and gain tournament experience but they also get a chance at little gifts and tournament prices.
Sei es ein kleines Treffen um unsere Battlefield 4 Server zu besprechen ( Bild 1 ) oder eine Generalversammlung ( Bild 2 ) mit bis zu 50 Membern, bei uns ist immer was los.
Speziel die Generalversammlungen spielten sich schnell den Ruf ein lange zu dauern, viel zu besprechen und einiges zu erreicht zu haben.
Letzteres macht natürlich auch unseren Team aus denn maximales Mitspracherecht unserer Mitglieder ist das Standbein des Vereins .
No Dice-Hunter allowed
Kategorie: Team Gosu - Berichte | Autor:
IIkiLLuII
| Datum: 12.12.2016 - 07:27 Uhr
0
Am 18 August 2012 war unser Verein zu Gast auf der Gamescom in Köln.
Neben vielen Bekanten in der EA Community Lounge gab es einen feierlichen Anlass.
Andreas "gamm4" Koch und Daniel "zh1nt0" werden Ehrenmitglied bei Team Gosu.
Neben einer Urkunde überreichen wir den beiden Communitygrößen ein Dogtag mit eigener Gravur.
Außerdem wurde unser Battlefield Server als erster überhaupt mit dem Tag "No Dice-Hunter" allowed versehen um unseren Freunden von EA den größtmöglichen Spaß auf unseren Servern zu gewähren.
Speziel ging es darum das durch die ewige Dog Tag Jagt auf die Mitglieder ein unbeschwertes spielen kaum möglich war sodass wir rigoros alle Spieler entfernten die nichts anderes wollten als die
begehrten Hundemarken der EA Entwickler und Community Manager.